Broxburn Athletic

vs

Lesmahagow F.C.
Report
Broxburn Athletic 3 Lesmahagow 2
Attendance- 114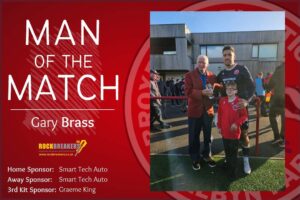 This week, we were back at the Albyn for the South Challenge Cup third round match against WOSFL third division side Lesmahagow Juniors.
Broxburn make 5 changes to the team that lost to Dunbar United. Marcus Millar, Andrew Gillen, Greg Binnie, Ross Nimmo & Liam Campbell come in to the starting 11, replacing Callum Heath, Kyle Connelly, Lewis Turner, Greg Page and John Ward.
So far in the South Challenge cup, Broxburn Athletic defeated Whitburn on penalties after a 2-2 draw, while Lesmahagow defeated Mid Annandale 2-0 away from home to reach this stage.
Broxburn are in a changed all navy-blue kit and start with a 4-3-3 formation. The visitors are in white & blue shirts, blue shorts and white socks and start with a 3-5-2 shape.
Bright start for Broxburn. Good play by Ross Nimmo down the left. He takes on Lesmahagow full back Kyle Weir. Nimmo delivers a dangerous cross that is well defended by Lesmahagow's number 6 Gary Nicholson.
Six minutes in and Gary Brass gets the ball to feet and feeds Greg Binnie whose shot is well saved down low by Lesmahagow keeper Jordan Brown.
A Broxburn corner is cleared only as far as Kieran Moyles who shot is miles over the bar. Long ball forward finds Ross Nimmo who is fouled by Robbie Duddy who is first in referee Lee's book.
GOAL! Broxburn take the lead. Gary Brass latches on to a long ball. He takes an excellent first touch and gets beyond Jordan Whitefield. He scores low into the net leaving Lesmahagow keeper Jordan Brown no chance.
BROXBURN ATHLETIC 1 (Brass-21 minutes)
LESMAHAGOW 0
A minute later and Broxburn have a huge chance to double their lead. Greg Binnie finds the overlapping Liam Campbell, Campbell finds Ross Nimmo who has acres of space. His shot is pushed wide by Lesmahagow keeper Jordan Brown. Greg Binnie soon after has a half chance. He tries to lob Jordan Brown who has came of his line, but his effort is over the bar.
Lesmahagow have their first shot on target 32 minutes in. Paul Woodlock's shot is easily collected by Bob Watt.
Greg Binnie has a volley that is just wide of target. Great seeing Greg back and he looks sharpe today so far.
Broxburn break forward after a Lesmahagow rare attack. The ball finds Greg Binnie who's goal bound shot is cleared of the line by Kyle Weir for the visitors.
Lesmahgow equalise. A long ball forward by Jordan Brown finds Docherty who's shot is parried by Bob Watt, but he can't get to it and it just sneaks over the line for 1 each.
BROXBURN ATHLETIC 1
LESMAHAGOW 1 (Docherty-38 minutes)
GOAL! Broxburn are back ahead. Great feet by Marky Munro who skips past two lesmahagow players and crosses into the box. It deflects out to Gary Brass who fizzes his shot home via the bar.
BROXBURN ATHLETIC 2 (Brass-42 minutes)
LESMAHAGOW 1
HALF TIME (2-1 Broxburn)
Gary Brass picks up on the right and drives down the flank. He delivers a dangerous cross that Greg Binnie can't quite make contact with.
Lesmahagow's Andrew Arthurs delivers a dangerous ball from over on the right but there is no takers for the visitors.
A shot by Liam Campbell from over on the right is over the bar.
Lesmahagow equalise. A good through ball from Kieran McGuire finds Docherty who scores low into the net.
BROXBURN ATHLETIC 2
LESMAHAGOW 2 (Docherty-54 minutes)
Lesmahagow have another chance. Robbie Duddy has a shot over on the left Is well saved by Bob Watt.
Unfortunately, Lesmahagow keeper Jordan Brown can't continue because of injury and is replaced by Lewis Melvin.
Broxburn have 4 consecutive corners in a row that Lesmahagow defend all of them well.
SUBSTITUTION (75 minutes)
ON-Darren Downie
OFF-Liam Campbell
Broxburn have a penalty and Lesmahagow are down to 10 men. A shot is tipped over the bar by Craig Forbes who is shown his marching orders. GOAL! Up steps substitute Darren Downie who scores low into the left corner.
BROXBURN ATHLETIC 3 (Downie Penalty-78 minutes)
LESMAHAGOW 2
Gary Brass has space out wide and crosses for Greg Binnie who misses the ball.
SUBSTITUTION (80 minutes)
ON-Kyle Connelly
OFF-Gary Brass
Chance for substitute Kyle Connelly, his shot from the left is pushed wide by sub Lesmahagow keeper Melvin.
On 85 minutes Marky Munro is booked for a foul. A shot by Darren Downie is well saved by Devlin. Two chances each for Greg Binnie and Ross Nimmo are all saved by Lewis Melvin as Broxburn look to kill the game with a 4th goal. A deep cross from the left by Ross Nimmo finds Marcus Millar whose header is also saved from close range.
Broxburn held on and progress to the 4th round of the challenge cup.
FULL TIME
BROXBURN ATHLETIC 3 (Brass x2, Downie)
LESMAHAGOW 2
Referee-Lee
Assistants-McGuire & Donald
Details
| Date | Time | League | Season |
| --- | --- | --- | --- |
| October 14, 2023 | 2:30 pm | South Challenge Cup | 2023/24 |
Result
| | | | |
| --- | --- | --- | --- |
| Broxburn Athletic | 2 | 1 | 3 |
| Lesmahagow F.C. | 1 | 1 | 2 |
Goals
Assists
Yellow Cards
Red Cards
---
KO
KO
13
21
40
43
54
63
68
71
72
73
77
77
79
85
FT