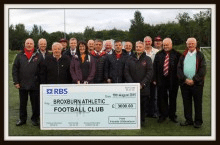 Pictured are just some of the Friends of Broxburn Athletic who raised a fantastic amount towards the squad budget.
CAN YOU HELP "THE BURN " ,CAN YOU AFFORD APPROXIMATELY £2 A WEEK ,IF SO WE WOULD LOVE FOR YOU TO GET INVOLVED AND BE PART OF THE CLUB BY DONATING (ON A MONTHLY BASIS ) BY STANDING ORDER THROUGH YOUR BANK INTO A FRIENDS OF BROXBURN ACCOUNT .IF SO PLEASE CONTACT ANY COMMITTEE MEMBER OR CONTACT US THROUGH  THE WEBSITE FOR FURTHER DETAILS  OF HOW TO SET THE PAYMENTS UP.
BROXBURN NEEDS A POOL OF PLAYERS TO COMPETE AT THIS LEVEL AND YOU WILL BE DONATING STRAIGHT IN TO A PLAYER TRANSFER FUND THAT WILL BE USED TO ATTRACT THE RIGHT PLAYER TO THE CLUB GIVING YOU A HUGE INPUT  ,PLEASE HELP , BE IT £10 , £15 ,£20 OR MORE IT WILL ALL GO A LONG WAY TO HELPING US KEEP OUR STATUS IN THE TOP FLIGHT .