Broxburn Athletic  have added to the club , a club chaplain  . Our chaplain is a local lad Andrew MacPherson who has been trained by the S.F.A Chaplain Mark Fleming who organises all chaplain's for all the clubs in Scotland .Andrew is in fact the grandson of one of our follow us everywhere supporter's Jack Rutherford . Andrew was introduced to the senior players at Tuesday's training and starts his role with immediate effect . Andrew will be a confidant to all at the club should they wish to use his service ,with any problems that life can throw at them in this day and age .We welcome him to the club and hope he does not have too many problems to deal with .
.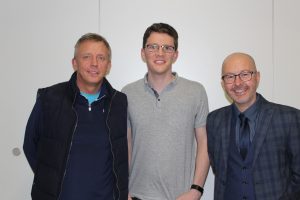 Andrew in the middle with coach Brian McNaughton and Sport Chaplaincy organiser Mark Fleming .
Some details on Sports Club Chaplaincy
History of Sports Chaplaincy Scotland
Sports Chaplaincy Scotland effectively began in 1998 when Mark Fleming was appointed as chaplain to Partick Thistle FC. His appointment came in the aftermath of what was probably the most turbulent time in their history when the club had just been saved from extinction by their fans' fundraising efforts. At that time four other Scottish clubs were known to have chaplains.
John Boyers, chaplain to Manchester United FC and founder of SCORE (the original name of Sports Chaplaincy UK) made regular trips up North to encourage his Scottish counterparts and suggested that Mark start to visit other clubs to offer to source and train chaplains for them. In 2004, Mark appointed chaplains at Kilmarnock FC and St Mirren FC respectively.
From 2008 Mark was invited by the Scottish FA to deliver a seminar on the basics and benefits of chaplaincy within football at the UEFA A Licence coaching course. By the following year, the number of chaplains in SPFL clubs grew to 22 and by 2011, 36 out of the 42 SPFL clubs had chaplains (the number now stands at 40).
By this stage clubs from the Highland League, Lowland League, Women's Premier League and the Junior Football Association also began to make enquiries about having a chaplain and by 2014 Mark became full-time in his role as pastoral support director for Scottish football in order to continue to lead the way forward.
Today there are upwards of 100 chaplains at football clubs in Scotland and Mark also serves as chaplain to the Scottish FA.
Catriona Lamont is Sports Chaplaincy Scotland administrator as well as being chaplain to Hibernian Women FC.